We offer a standard formula and a lead free crystal formula. CBC glass batch is packaged in 25 lb bags designed to be charged in the bag . We also offer custom mixing and formulation.
.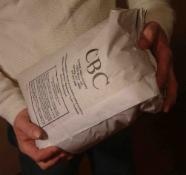 CBC Glass Properties:

· Standard formula: COE 98 ±1 25-300 c / 96 ±1 0- 300 c giving a good fit with most color rods.

· Comes in 25 lb bags ready to be charged intact.

· Medium to long working characteristics with no tendencies toward devitrification

· Excellent clarity (Standard Formula)

· Less corrosive to refractory, which reduces cords and gives longer pot life.

· Low working temps 2000-2050 F giving lower fuel consumption

· Easy melting temps 2200-2250 F, Fining 2300-2350.
Current Pricing:
Standard Formula .63 cents / lb FOB Corning NY.